Lawrence Heights
Lawrence Heights is TCHC's largest revitalization project. Through revitalization, this 100-acre site (40.5 hectares) south of Yorkdale Shopping Centre will be transformed into a vibrant, mixed-income community.
Revitalization at Lawrence Heights includes replacing 1,208 TCHC units and building over 4,000 new market units, along with new parks, retail space, and roads connecting Lawrence Heights to the surrounding community. The plan to revitalize Lawrence Heights reflects input from residents, neighbourhood organizations, and the City of Toronto, and will occur in four phases 
By the numbers
Size: Over 100 acres (40.5 hectares)
Start date: October 2015
Completion date: 2039 (anticipated)
Project phases: 4 (currently in Phase 1)
TCHC rental units: 1,208 replacement units
Private market units: 4,092
Amenities: New public parks, school, community centre, and new commercial space for retail and services.
Phase 1 project targets
Anticipated completion date: 2024
TCHC RGI rental replacement units: 255 units located across new mid and low-rise buildings completed or in progress.
Private market condominium units: 845 units located across new high and low-rise buildings completed or in progress.
New public park, linear park, and open space
New public roads
Zachary Court
New Heights Court
Turtle Island Road
Hooyo Terrace
Green Gardens Boulevard
Deep Roots Terrace
Lawrence Heights Way
Phase 1 development partner
Heights Development Inc. (a co-venture of Context and Metropia) are TCHC's development partners for Phase 1 of the Lawrence Heights revitalization. 
As part of their commitment as the developer partners for Phase 1, Heights Development Inc. contributed over half a million dollars to establish scholarship programs to help TCHC tenant leaders of all ages, who have been involved in community development initiatives and have made significant contributions within the Lawrence Heights and Neptune communities, access post-secondary education or training. Since 2013, TCHC awarded 154 scholarships valued at $533,000 to student tenants in our Lawrence Heights and Neptune communities through the Building our Future: Limitless Heights Scholarship program (2013-2021) and the Revite NERDS Scholarship program (2021-2022) thanks to funding from our partner, Heights Development. 
Context and Metropia (Heights Development Inc.) have also committed $3.5 million to resident employment and training. To date, the funding has provided TCHC tenants with over, 
200 job opportunities;
200 pre-employment and skill-building opportunities; and
550 youth summer job opportunities, internships, and student placements.
Additionally, in 2019, TCHC and Heights Development collaborated to establish the Revitalization Micro Grants (RMG, now closed), a program that supported tenants in Lawrence Heights and Neptune with their community initiatives. A total of $40,000 was given to tenants to support tenant-led projects that fell under one or more of the following categories: 
Innovate and stimulate economic development 
Support and promote neighbourhood heritage, arts and culture 
Promote and ensure safety and well-being. 
Highlight and support youth-focused or youth-led initiatives 
Highlight and support seniors-focused or seniors-led initiatives 
Promote social cohesion and neighbourhood integration 
Support and promote community connections 
In total, 14 revitalization micro grants were awarded to tenants to support their tenant-led projects, including the following:
Hope and Hustle Heights Open Mic – Youth from the Lawrence Heights and Neptune community participated in a five-part, open microphone workshop that explored a variety of topics such as the meaning of community, safety and unity. Each session also included spoken word, painting, healing circles, cultural dance, and singing.
The Blanket Activity: African – Residents of Lawrence Heights and Neptune participated in this participatory learning workshop to expand their collective understanding of the contributions, experiences and legacies of people from the African diaspora in Canada.
Soccer Training Program – Children in the community participated in a soccer training program designed to fill a gap and equip them with the skills necessary to play soccer in a safe and engaging way. This project consisted of three training sessions, followed by a tournament.
Lawrence Heights Soccer – The Lawrence Heights Soccer league provided 20 youth in Lawrence Heights and Neptune with an opportunity to play, build leadership skills, and exercise.
Project Varna – Project Varna aimed to provide youth in the community with an opportunity to develop their communication, wellness, education, teamwork, self-confidence, and physical health while developing their basketball skills.
Sassymomz – The program featured a workshop and several group activity sessions designed to help mothers in the community (16 years and older) build self–confidence and leadership skills.
East African Boyz 2 Men – This project consisted of three sessions with two healing circle discussions, as well as a celebration at the end to share the importance of family and community, particularly amongst Lawrence Heights and Neptune's large East African population.
Youth Mental Health & Fitness – A series of sessions that promoted physical and mental health amongst youth living in Lawrence Heights and Neptune. The sessions also educated the youth on the impact of fitness and diet on mental health. 
Phase 2
Planning is underway for Phase 2 of the Lawrence Heights Revitalization project.
Community and Recreation Centre
The City of Toronto is moving forward with the design of a new Community and Recreation Centre (CRC), which will be  a community centrepiece and is a key project in Phase 2 of the revitalization made possible because of revitalization.  Community engagement to inform the CRC design and construction planning began in May 2022 and TCHC is working together with the City to prepare for CRC construction.   
Phase 2 development partner
The successful developer partner for Phase 2 will be selected through a public RFP process, anticipated to be released late Fall 2023. 
The RFP will be informed by a Tenant Priorities Report that advises potential developers about the community's social and economic development priorities with revitalization in addition to physical infrastructure requirements. The report will allow developers and TCHC to determine the value of the developer contribution and also serve as a base for the scope of work for Phase 2 priorities.  
The Tenant Priorities Report is currently in development after extensive community consultations led by the Lawrence Heights revitalization ambassadors and TCHC revitalization staff throughout 2021. The final Tenant Priorities Report will be released with the RFP in late 2023.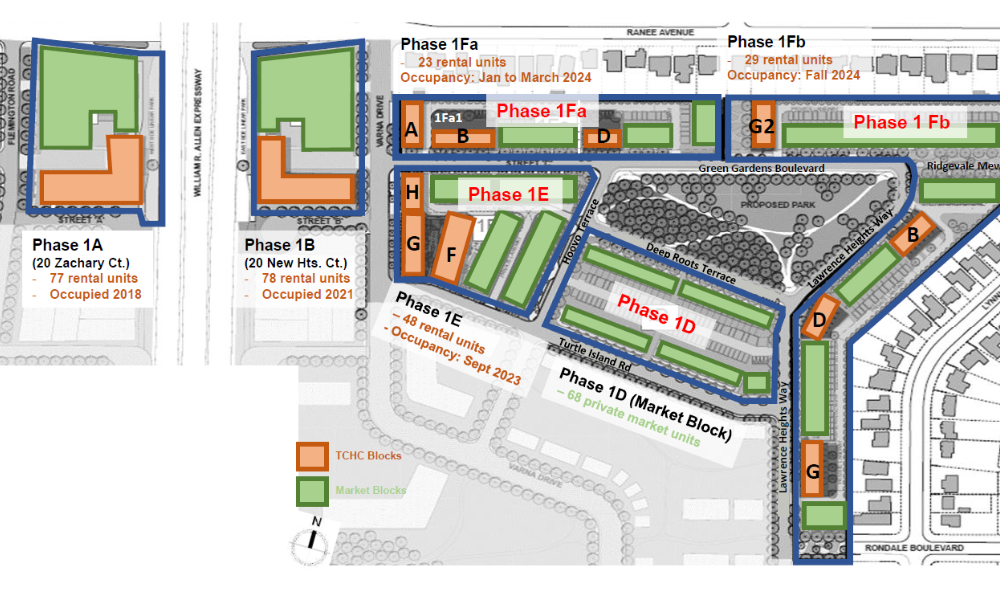 Development timeline
2024 (anticipated)
Completion of Phase 1
Completion of four remaining municipal roads: 

Green Gardens Boulevard
Lawrence Heights Way
Hooyo Terrace
Deep Roots Terrace

Completion of remaining low-rise units in Phase 1Fa and 1Fb
Return of relocated tenants in the low-rise units in Phase 1Fa and 1Fb
2023 (anticipated)
Completion of 48 low-rise units in Phase 1E
Return of relocated tenants into the low-rise units in Phase 1E
2021
Relocation of all households in Phase 1 completed
Completion of 20 New Heights Court, an eight-storey TCHC rental building and 120 Varna Drive, a 15-storey market condo.
2018
Completion of 20 Zachary Court, a seven-storey TCHC rental building, and 160 Flemington Road, a 15-storey market condo.
October 2015
Demolition begins for Phase 1
April 2013 
TCHC partners with Heights Development Inc. (Context and Metropia)  to construct Phase 1 of the Lawrence Heights revitalization
July 2012
November 2011
Toronto City Council strongly endorses the Lawrence-Allen Secondary Plan, allowing Toronto Community Housing to move forward with the Lawrence Heights revitalization.
TCHC revitalization office
Contact us for more information about the Lawrence Heights revitalization